AZS-WSKFiT
AZS WSKFiT Academic Sports Association Club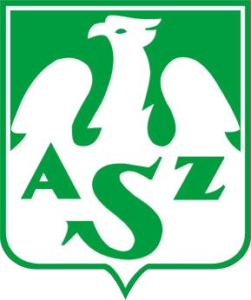 Academic Sports Association (AZS) Club at Halina Konopacka University of Physical Education and Tourism in Pruszków was founded to promote physical culture and tourism as well as to develop competitive sports in the academic environment.
AZS WSKFiT achieves its goals by:
organising sports life, recreation and tourism,
participation in sport events and competitions in Poland and abroad,
cooperation in organizing training and improvement of trainers and instructors, sport and recreation organisers,
promoting various forms of sport, recreation and tourism,
cooperation with university units dealing with the problems of physical culture,
cooperation with state and local government institutions, sports associations and social organisations
maintaining sports contacts with relevant sports organisations in the country and abroad.
AZS WSKFiT is one of the academic clubs associated and closely cooperating with AZS Środowisko, which conducts classes in various sports disciplines, allowing students to develop their sports skills.
AZS WSKFiT athletes can take part in the Academic Championships of Warsaw and Mazovia Province, as well as the Academic Championships of Poland.
AZS WSKFiT Academic Club is managed by the Board. It was elected on March 28, 2015. A young and resilient team of people has been changing the face of AZS at WSKFiT.
The activity of AZS WSKFiT allows us to show the image of H. Konopacka University of Physical Culture and Tourism as a university with a high sporting level. We show that our students are gaining higher and higher results both in education and sports. Their ambitions for their education and future existence in society are reflected in their ambitions to achieve high results in stadiums all over Poland. We exemplify the idea of a proverb: "in a healthy body, a healthy spirit".
Currently, the club has sections for swimming, bodybuilding, athletics, football, volleyball, weightlifting and combat sports.
---
Akademickie Mistrzostwa Polski w Kolarstwie – organizowane przez WSKFiT
---
AMP w Kolarstwie 2021
Wyniki AMP w jeździe indywidualnej na czas 17.06.2021 w miejscowości Chmielno: Reprezentanci WSKFiT – Bodnar Maciej – 1 miejsce, Filip Maciejuk – 2 miejsce, Łukasz Wiśniowski – 3 miejsce, Aurelia Nerlo– 2 miejsce.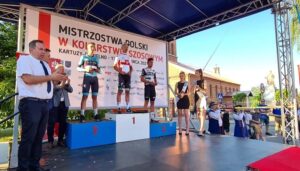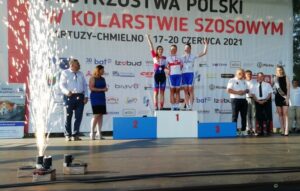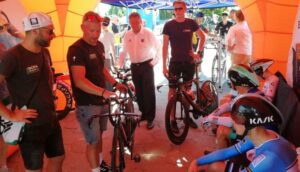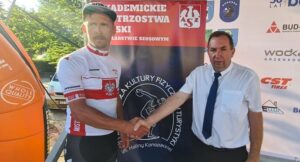 19.06.2021 Wyniki naszych studentek : Skalniak-Sojka Agnieszka – 4 miejsce, Majewska Oliwia – 5 miejsce, Plosaj Nikol – 6 miejsce.
Podczas dekoracji wyższe uczelnie reprezentował nasz wykładowca dr Marek Zieliński udzielał tez wywiadów w imieniu środowiska akademickiego.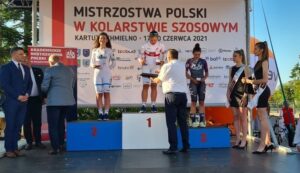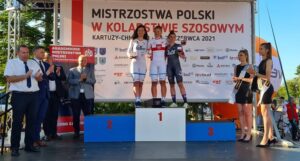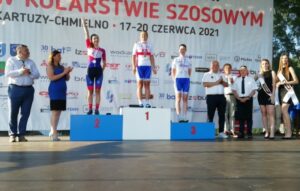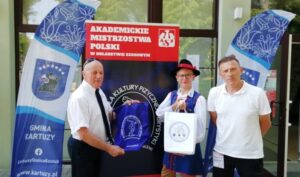 Akademickie Mistrzostwa Polski – start wspólny mężczyzn 20.06.2021r. W Kartuzach. Nasi studenci na podium- I miejsce – Michał Gołaś, II – Szymon Rekita, III – Marceli Bogusławski.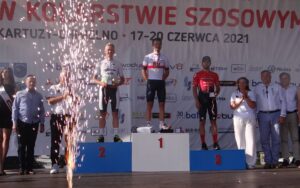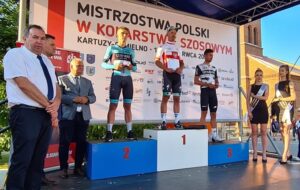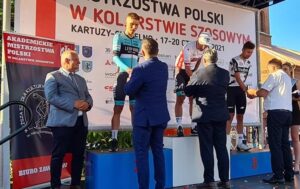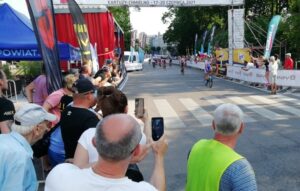 ---
AMP w Kolarstwie 2020
konkurencja – ,,Start wspólny kobiet''. Zawodniczki reprezentujące WSKFiT zdobyły dwa medale.
Katarzyna Wilkos – 2 miejsce, Łucja Pietrzak – 3 miejsce, Agnieszka Skalniak – 4 miejsce, Nikol Płosaj– 5 miejsce, Daria Pikulik – 6 miejsce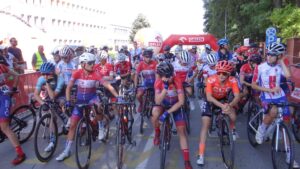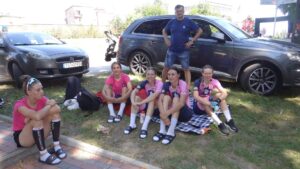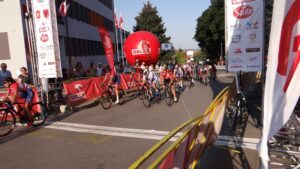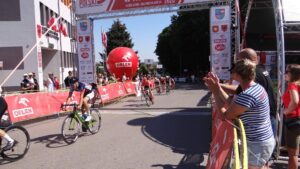 AMP w Kolarstwie 2020
konkurencja – jazda indywidualna na czas.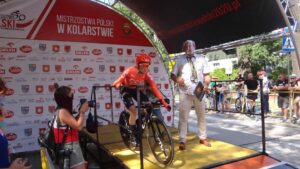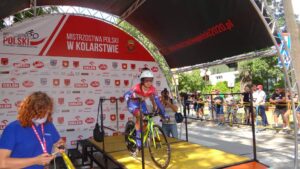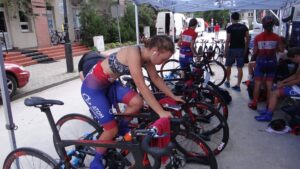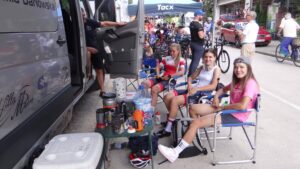 AMP w Kolarstwie 2020
konkurencja – ,,Start wspólny mężczyzn'' Trzy pierwsze miejsca dla WSKFiT.
Michał Gołaś – 1 miejsce, Szymon Krawczyk – 2 miejsce Paweł Szóstka – 3 miejsce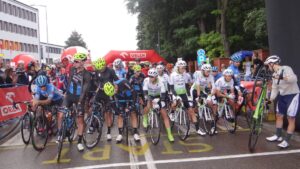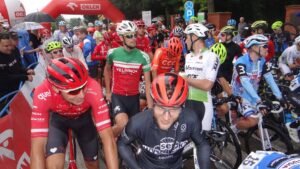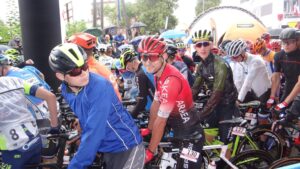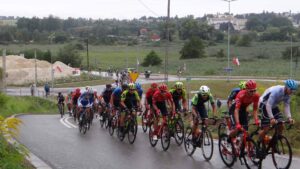 ---
Reprezentanci AZS WSKFiT
---
Akademickich Mistrzostw Polski Kobiet i Mężczyzn w tenisie stołowym – 23-25 marca 2021 r. w Lublinie
Paulina Stachecka, Wiktoria Zaniewska, Aleksandra Baryczka, Jakub Polański, Damian Antczak, Mikołaj Mięśniak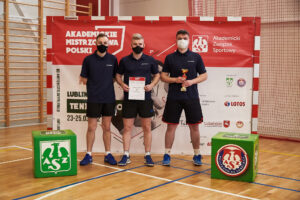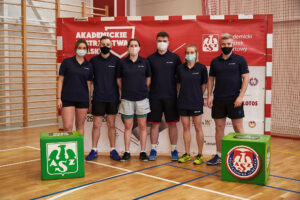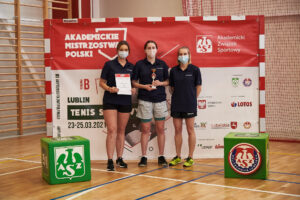 ---
Mistrzostwa Polski AZS w Podnoszeniu Ciężarów, Zamość 14-15.05.2021
Zawodnicy KU AZS WSKFiT nie zawiedli ! Wśród Pań w kat. 71 kg III m. brązowy medal zdobyła Paulina Krzywicka. Panowie w szerszym składzie zajmowali odpowiednio miejsca:
Daniel Skorupka – I m. złoty medal kat 96 kg ,
Jan Strzelczyk – II m. srebrny medal kat. 61 kg,
Mateusz Stelęgowski – III m. brązowy medal kat. 67 kg,
Daniel Gralak – III m. brązowy medal kat. 73 kg,
Michał Gregorczyk – III m. brązowy medal kat. +109 kg
Mateusz Lepianka – IV m. kat 96 kg,
Michał Trzosowski – IV m. kat. 102 kg
Eryk Barcik – IV m. kat. +109 kg.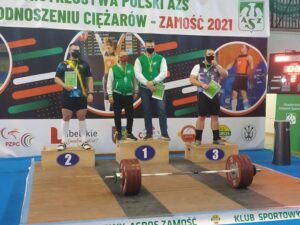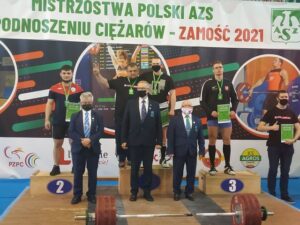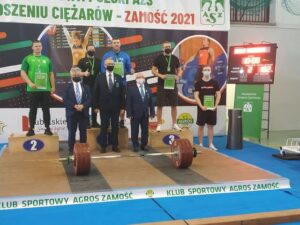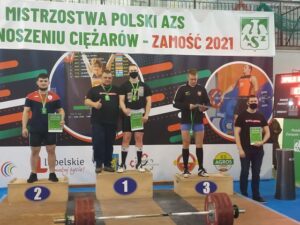 ---
Akademickie Mistrzostwa Polski w Lekkiej Atletyce 13-16.09.2020 r.
Reprezentantami naszej uczelni byli: Zuzanna Hulisz, Bartłomiej Mieszkowski, Paweł Moczydłowski, Patryk Stypułkowski oraz Anna Szymańska.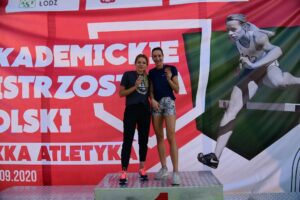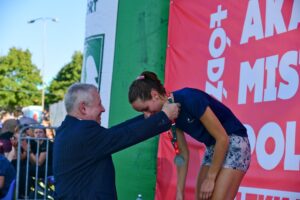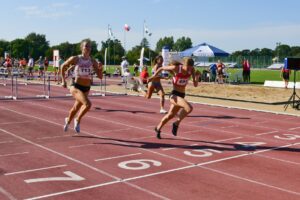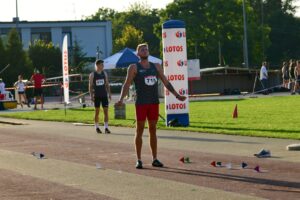 ---
zobacz też
---