Biblioteka
---
The WSKFiT library is open on:
Saturday 9.00- 14.00
Due to the epidemic situation, please place your book orders to the following address:
E-mail contact: biblioteka@wskfit.pl
after checking their availability in the catalogue:
www.wskfit.pl/biblioteka/zbiory
---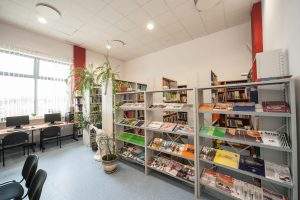 The WSKFiT Library is a university-wide organisational unit providing services, teaching and research.
The book collection of the WSKFiT Library is of a specialist character. The subject matter of the book collection is consistent with the profile of the University. The Library collects books, magazines and special collections in the following fields: physical culture, physical education, sport, anthropology, biology, physiology, health education, sports medicine, biological regeneration, law and administration.
For working in the WSKFiT Library, the MOL Optivim programme of the VULCAN company is used to catalogue the collection and serve the readers.
---
---