University Authorities
---
Her Magnificence the Rector, Dr Elżbieta Paziewska
– appointed to this position on 7 October 2021.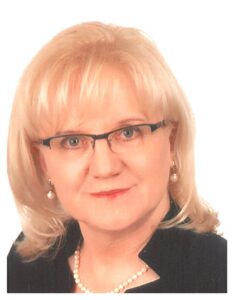 A full-time graduate of the faculty of Polish Studies at the University of Warsaw, majoring in Polish philology, specialising in teaching.
At the Faculty of Historical and Social Sciences at the Cardinal Stefan Wyszyński University in Warsaw, she defended her doctoral dissertation on the following topic: "Warsaw local government in the interwar period and in the years 1990-2005. A comparative study of the organisation of management structures" . She was awarded the academic degree of Doctor of Humanities.
She has extensive professional experience in working with and for people. After graduation, she worked in education. Since 1990, she began working in a local government and public administration at various levels. She was, among others, the secretary of the municipality, Councillor and Member of the Pruszków District Board. She was also the mayor of the district of Włochy in Warsaw and a commissarial mayor of Augustów. She has also several years of control experience in the state and government administration.
Since 2009, she worked as an academic teacher at a public university, while since 2011 she has been associated with the Halina Konopacka Academy of Physical Culture and Tourism in Pruszków. First, she co-organised the faculty of administration and was its first Dean, promoter and reviewer of dozens of diploma theses.
After a 3-year break, when she worked in the civil service, holding managerial positions in the Ministry of Science and Higher Education, she again started cooperating with WSKFiT in Pruszków, teaching at the faculty of administration.
She systematically expanded her specialist knowledge during postgraduate studies. She completed them, among others, in the fields of: local government and local development, then administration at the faculty of law and administration of the University of Warsaw; management and internal control and audit at the faculty of economics and management of the Polonia Academy in Częstochowa; management in public administration at the Leon Koźmiński Academy of Entrepreneurship and Management in Warsaw with accreditation of the Warsaw University faculty of management. She was trained for managerial staff in the field of civil service at the National School of Public Administration.
In addition, she is a certified information security management system internal auditor and information security management system plenipotentiary.
She holds a security clearance authorising access to classified information with the confidential and secret clause in Poland, NATO and EU.
---
Research and didactic teachers
Prof. dr hab. Romuald Stupnicki
Prof. dr hab. Lech Królikowski
Dr Romuald Regini
Dr Mariusz Hrycyna
Dr Marzena Kurzak
Dr Katarzyna Pec
Dr Elżbieta Olszewska
Dr Aida Piskorz
Dr Kraszewska Justyna
Dr Kozielski Paweł
Dr Ołdak-Jaczyńska Katarzyna